Posts for tag: dental implants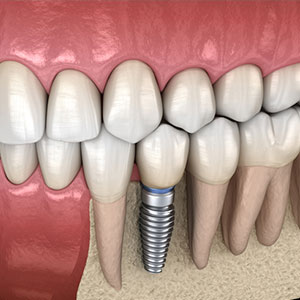 Among dental restorations, implants are the closest prosthetic we have to real teeth. They not only replace the visible crown, but the titanium post imbedded in the jawbone adequately substitutes for the tooth root. Because of their unique design, implants are not only life-like, they're highly durable and could potentially last for decades.
But while their success rate is remarkably high (more than 95% exceed the ten-year mark), they can fail. Ironically, one possible cause for implant failure is periodontal (gum) disease. Although an implant's materials are themselves impervious to disease, the tissues and underlying bone that support the implant aren't. If these natural tissues become infected, the secure hold the implant has can weaken and fail.
A gum infection usually begins with dental plaque, a thin biofilm of bacteria and food particles that builds up on tooth surfaces. Certain strains of bacteria within plaque can infect the gums. One particular form of the disease known as peri-implantitis starts as an initial infection and ensuing inflammation of gum tissues around an implant. The disease can quickly spread down to the bone and destroy the integration between the bone and the implant that helps keep the implant in place.
That's why it's important for you to keep the implant and the tissues around it clean of plaque, just as you would the rest of your natural teeth. This requires daily brushing and flossing around the implant and other teeth, and visiting your dentist regularly for more thorough dental cleanings.
You should also be alert to any signs of disease, especially around implants: gum redness, swelling, bleeding or pus formation. Because of the rapidity with which peri-implantitis can spread, you should see your dentist as soon as possible if you notice any of these signs.
Preventing gum disease, and treating it promptly if it occurs, is a key part of implant longevity. Preserving your overall dental health will help make sure your implant doesn't become a loss statistic.
If you would like more information on caring for your dental implants, please contact us or schedule an appointment for a consultation.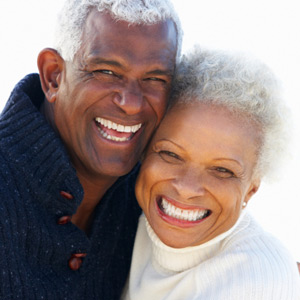 Installing dental implants involves more than the mechanics of placing them into the jawbone. Ultimate success — a natural and beautiful smile — requires painstaking attention to detail and artistry.
Here are a few of the factors we must consider to achieve a smile with dental implants you'll be proud to display.
The amount of available bone. For the permanent crown to appear natural, it's crucial to position the implant precisely. To achieve this precision requires an adequate amount of bone to be present. Unfortunately, bone loss is quite common after tooth loss; to minimize this we place bone grafts in the empty socket if at all possible after extraction to encourage bone growth. It's also possible in some cases to perform bone grafting surgery before implants to build up bone volume.
Your genetic gum tissue type. There are basically two types of gum tissue people are born with: thin or thick. Thin tissues are more subject to wear, difficult to work with during surgery and can make it difficult to hide the metal components of an implant. Thicker tissues are easier to work with, but can have a tendency to overgrow.
Achieving a natural "emergence profile." To look natural, the implant crown must appear to seamlessly emerge from the surrounding gum tissue. To achieve this, we must carefully plan and place the implant in the precise location in the bone, taking into account the implant shape and how far it should be placed within the bone to match the position and height of adjacent teeth and gum tissues.
Blending color shades with adjacent natural teeth. When it comes to color, everyone has subtle differences in tooth shades and hues. In fact, there are slight color variations within individual teeth, from the root to the tip of the crown. To make sure the implant blends in with adjacent teeth, it's important to match the color incorporated into the porcelain crown with the natural crowns beside them.
These and other factors require both technical expertise and a sense of artistry. Carefully considering all of them will help ensure your dental implants result in the smile you want.
If you would like more information on smile transformations with dental implants, please contact us or schedule an appointment for a consultation. You can also learn more about this topic by reading the Dear Doctor magazine article "Matching Teeth & Implants."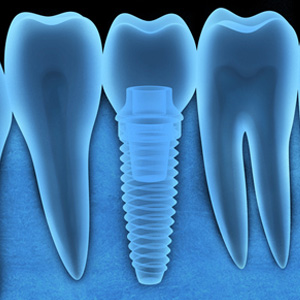 Dental implants are today's closest restorative facsimile to natural teeth. And they're versatile: not only can they replace single teeth but they can also support bridges or dentures.
But since one of their crucial components is made of metal, are you out of luck obtaining this state-of-the-art dental restoration if you have a metal allergy?
The answer is: probably not—it's rare for implants to cause an allergic reaction. Still, metal allergies can be a potential problem within your mouth as with other areas of health.
An allergy originates from the body's necessary response to potentially harmful microorganisms or substances. Sometimes, however, this response becomes chronic and exaggerated, creating an allergy. People can have allergies to nearly anything with responses ranging from a minor rash to a potentially life-threatening multi-organ system shutdown (anaphylactic shock).
A small number of people have allergies to particular metals. One of the most common is nickel, which affects an estimated 17% of women and 3% of men; cobalt and chromium are also known to cause allergies. Consumer exposure, particularly metal contact with the skin through jewelry or clothing, is the most prevalent, but not the most concerning. That's reserved for metal allergies related to medical devices like coronary stents or hip and knee prostheses. And in dentistry, there are rare occasions of inflammation or rashes from metal amalgam fillings.
Which brings us to dental implants: the main metal post that's inserted into the jawbone is usually made of titanium. It's the metal of choice for two reasons: it's bio-compatible, meaning the body normally accepts its presence; and it's osteophilic, which means bone cells readily grow and adhere to it, a major reason for implant durability.
While it's possible for someone to have an allergy and subsequent reaction to implants with titanium, the occurrences appear to be extremely low. In one study of 1,500 patients, titanium allergies were estimated to be a factor in implant failures in less than 1% of those studied.
Even so, if you have known metal allergies you should make sure your dentist knows. Being aware of all the facts will help them recommend the best tooth replacement choice for you—and hopefully it will be dental implants.
If you would like more information on dental implant restorations, please contact us or schedule an appointment for a consultation. You can also learn more about this topic by reading the Dear Doctor article "Metal Allergies to Dental Implants."